To place your order for your custom Rainbow Suit, please follow the instructions below.
Standard Suit is made to measure and is suitable for formation skydiving and all kinds of training jumps. It can be upgraded in the modular system up to a competition jumpsuit.
Basic version with arm and leg grippers on the outside and an inside pocket. The suit is made according to the customer's measurements and color selection. Two materials with different air resistance are available for the front which affects the individually fall rate. Nylon suits have a faster fall rate than polycotton suits due to their smooth surface. You can also choose two different designs for the forearms. Tight-fitting spandex arms or loose polycotton arms with a lot of fabric also regulate the fall rate as spandex forearms have a faster fall rate than polycotton forearms.
Three different fits are offered. This also further influences the fall rate during skydiving. Depending on your height and weight, you can adjust to your "teammates". We recommend tight-fitting nylon suits for light jumpers, loose polycotton suits for the average jumper or an extra wide fit for real heavyweights. Tight suits have a faster fall rate than loose suits!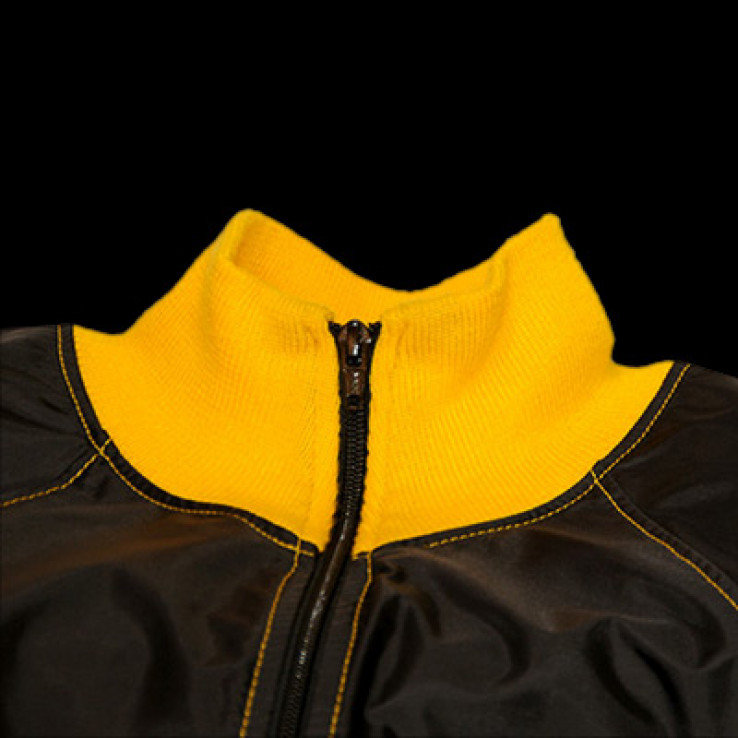 High collar
The high collar is closed all around compared to the normal V-collar (up to the level of the larynx).
Swoop Cords
Swoop cords are hand loops that allow the fabric in the upper body area to be spread like a wing (for heavy jumpers). Swoop cords are not possible with tight-fitting suits.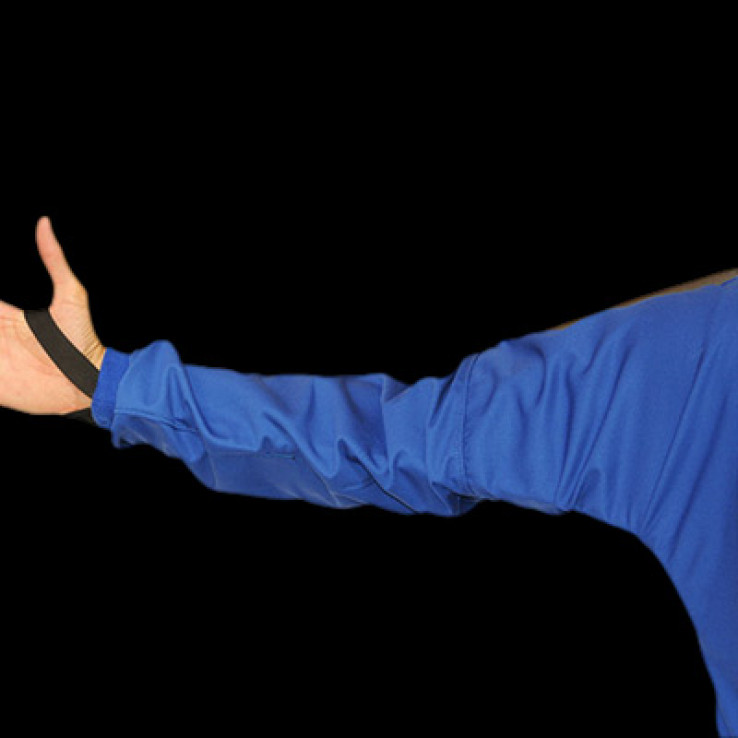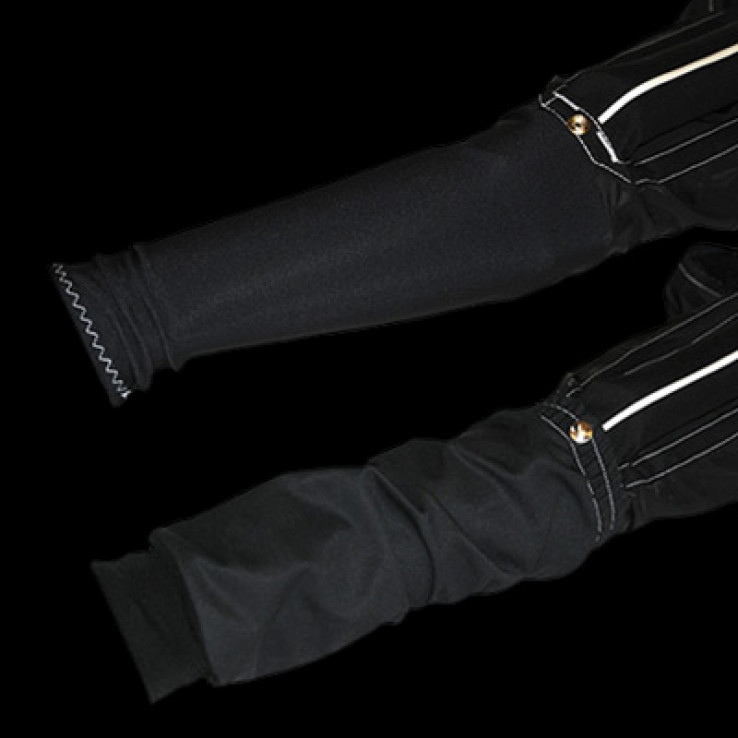 Slip-Ons
Slip-Ons are polycotton cuffs that are worn over spandex forearms and are used to vary the fall rate. They can be attached to the suit with a push button in the elbow area.
Inside Grippers
Inside grippers are attached to the inside of the leg and are required for team and competition formation skydiving.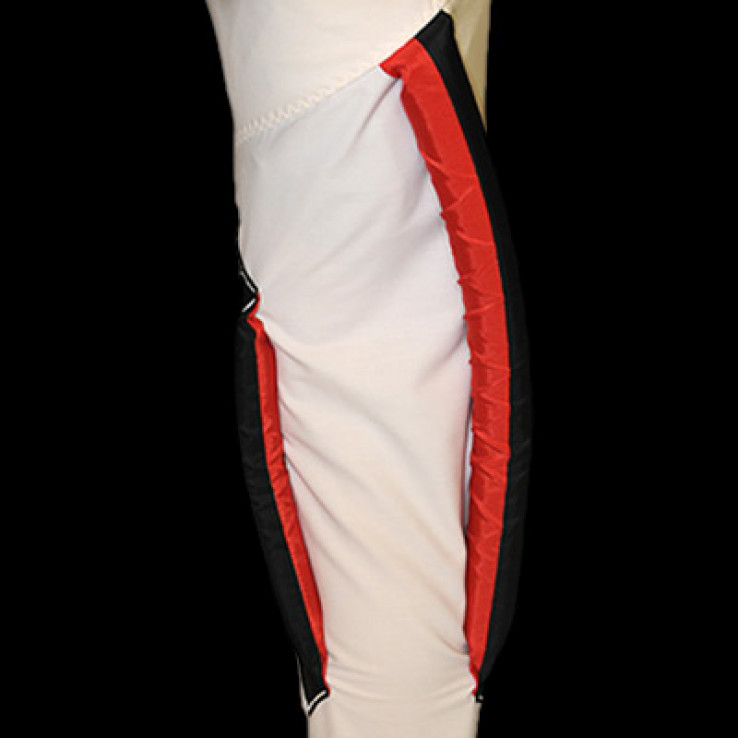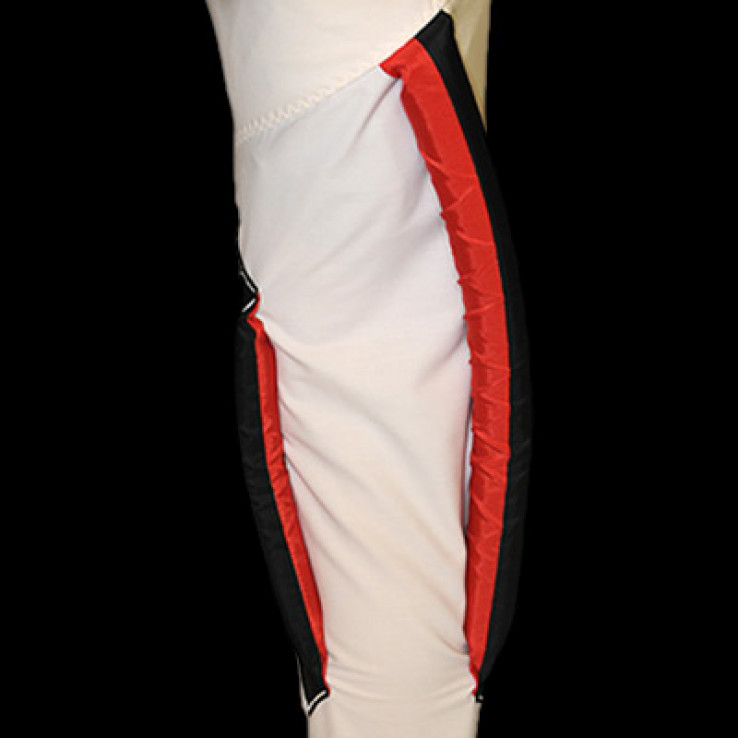 Thick Grippers
Thick grippers are approx. 4 cm in diameter, standard handles approx. 3 cm in diameter.
Soft Grippers
Soft grippers are provided with a flexible filling and enable the advanced competition jumper to have a better grip and the best freedom of movement.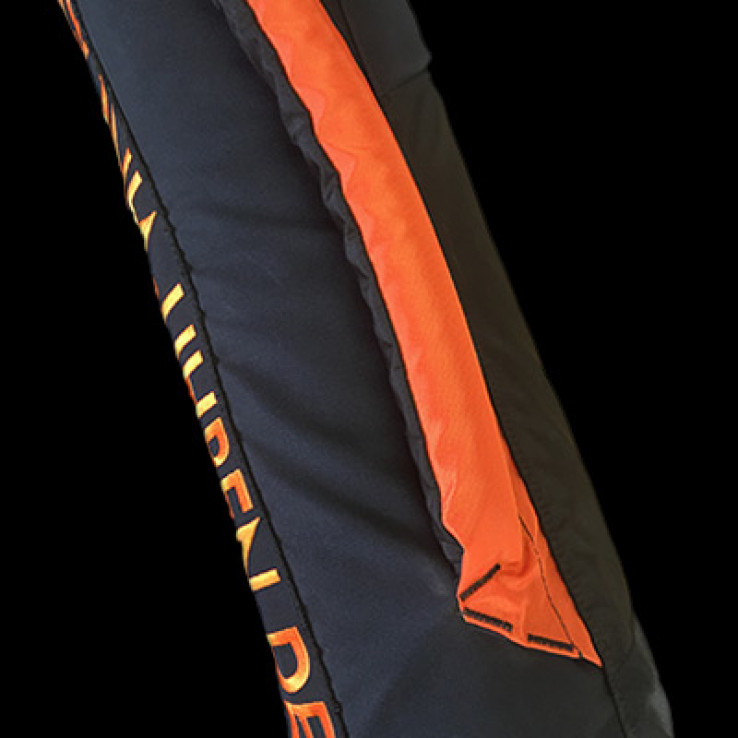 Two-colored Grippers
Two-colored grippers are divided lengthways, two different colors can be choosen.
Butt / knee reinforcement
Butt reinforcements and knee reinforcements made of Parapack protect the suit against wear and tear from sitting and kneeling in the aircraft, during landing and packing.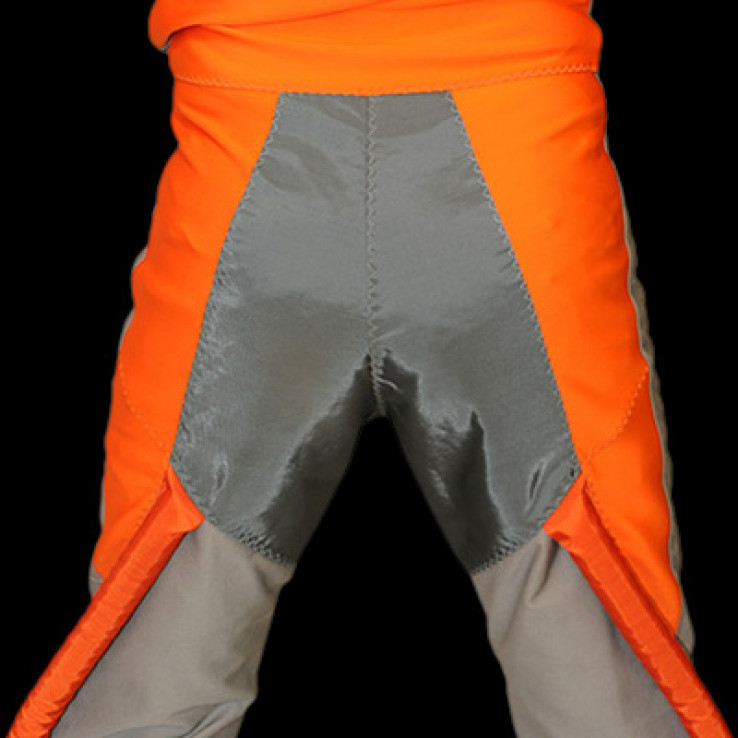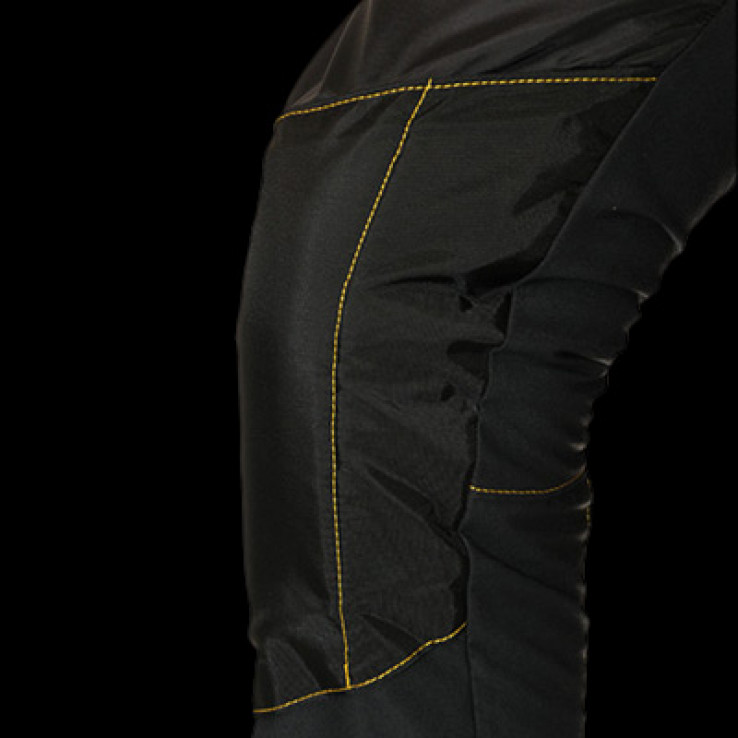 Knee pads
Knee pads are made of special foam and protect the sensitive knee area when jumping, landing and packing.
Elastic leg band
The extra long and wide leg combined with an elastic band is often used for very heavy jumpers instead of booties. The large leg volume reduces the fall rate and creates more forward pressure.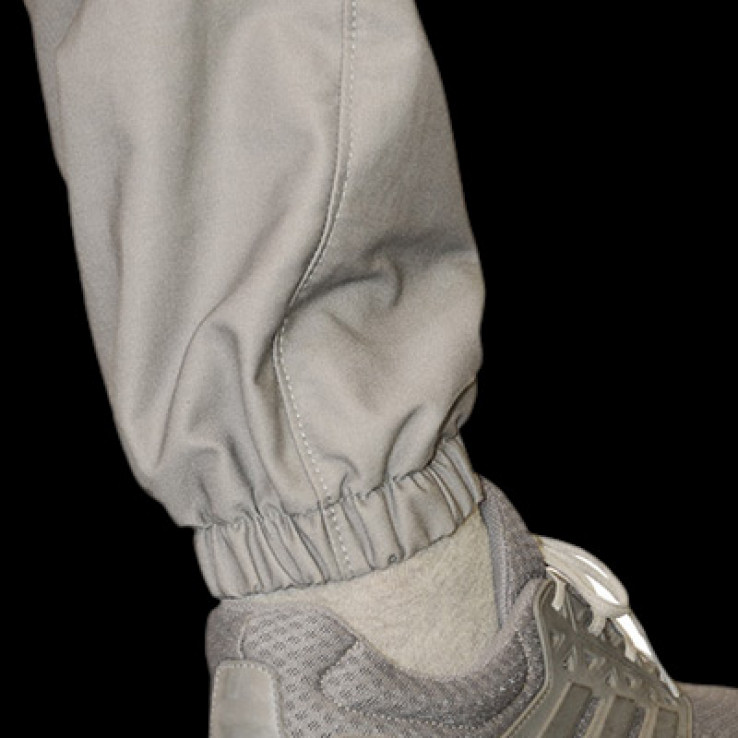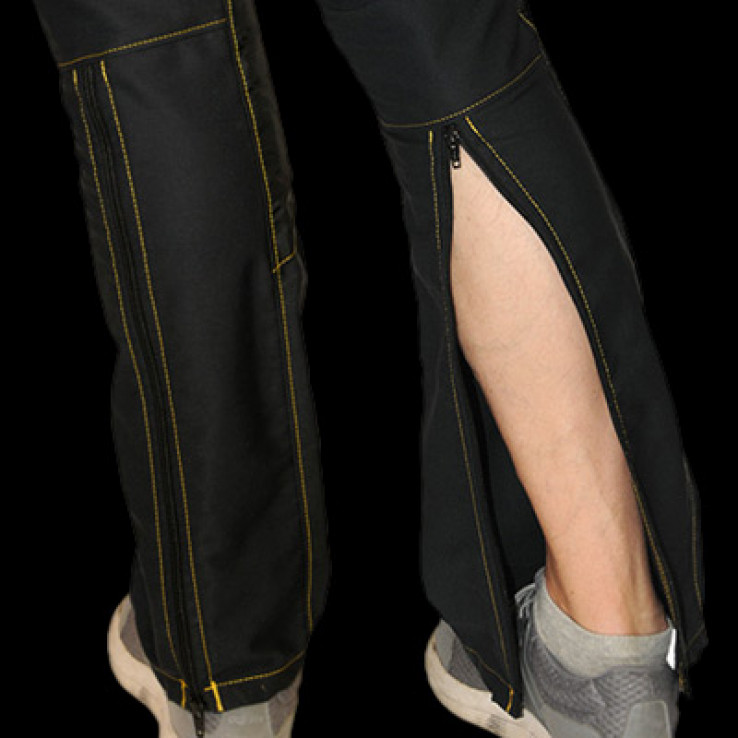 Leg Zippers
Leg zippers allow the suit to be opened in the lower leg area for hot summer days. Climbing through with sports shoes is only possible with extra wide suits.
Booties
Booties are equipped with anti-skid synthetic soles and side zippers and are worn over the shoes. Due to their volume and their rudder effect, the booties achieve a high level of effectiveness when turning and moving forward.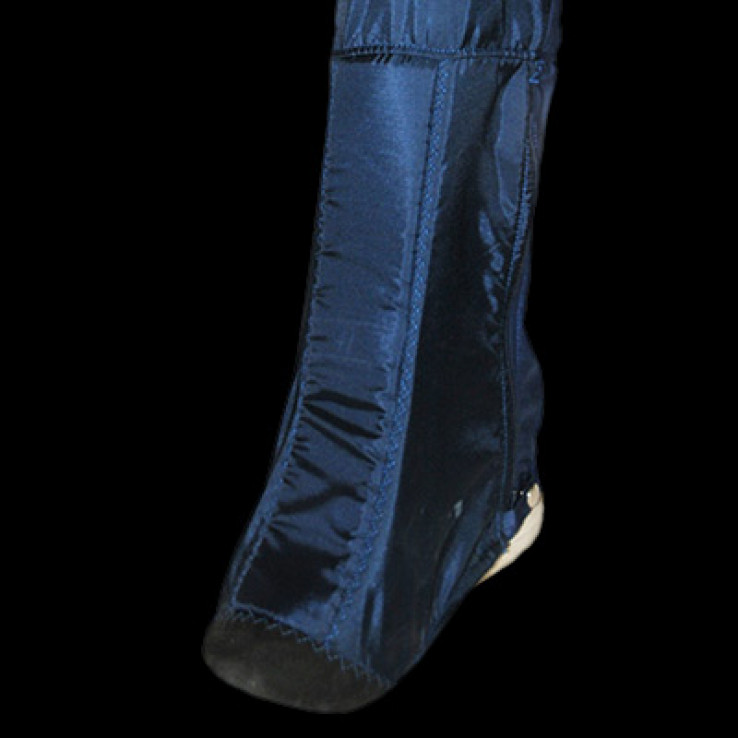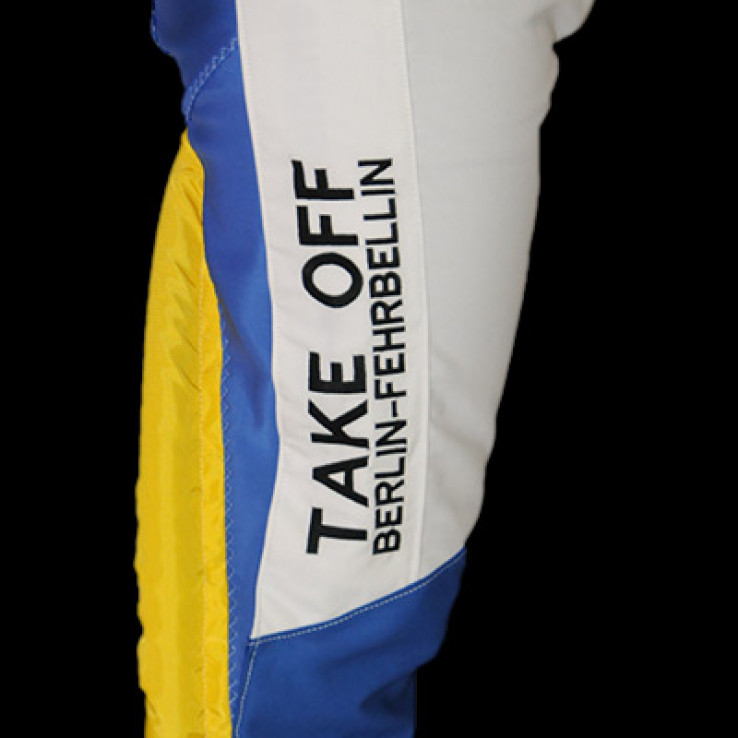 Branding
If desired, sponsors or company names can be embroidered on the suit.