If you're a "jumpaholic" you surely like to show it. Sometimes it's your preferred skydive t-shirt, sometimes it's an apparel with the look and feel of your preferred suit.
The Chillin' Graphix pants are manufactured with a strong printed fabric, with the same design of the freefly suits. Airworthy and great to jump, are cool to wear, at the drop zone or just hanging out with friends.
Knees and back are protected by the ballistic Ultra fabric, giving them an unsurpassed scratch protection in areas where tear and wear are a nightmare.
The windproof zippers to close pockets are functional not to loose personal items like pull-up cords or tickets, and are the same used on the freefly suits, for a perfect appearance.
The Chillin' Graphix pants are closed at the waist with a snap dot, and adjusted with tape belt and a sturdy nylon clip.
Available in graphic designs in different colors, in standard sizes.
Standard Sizes
Know your body measurements to select the right size. Have someone taking your measurements on light clothes, without shoes, removing objects from pockets. Stand straight while being measured and follow the guidelines. Take your measurements three times or more to be absolutely sure about the numbers, and take care in not twisting the measurement tape.
They're surely not covering 100% of the people, but there are very good chances that you will find a standard size fitting you well! This has clear advantages, for us as manufacturers, for our dealers, and for jumpers.
As manufacturer, we can organize the production better, allowing more favorable prices.
A dealer can stock standard sizes, with faster reassorting time, to serve better his own customers.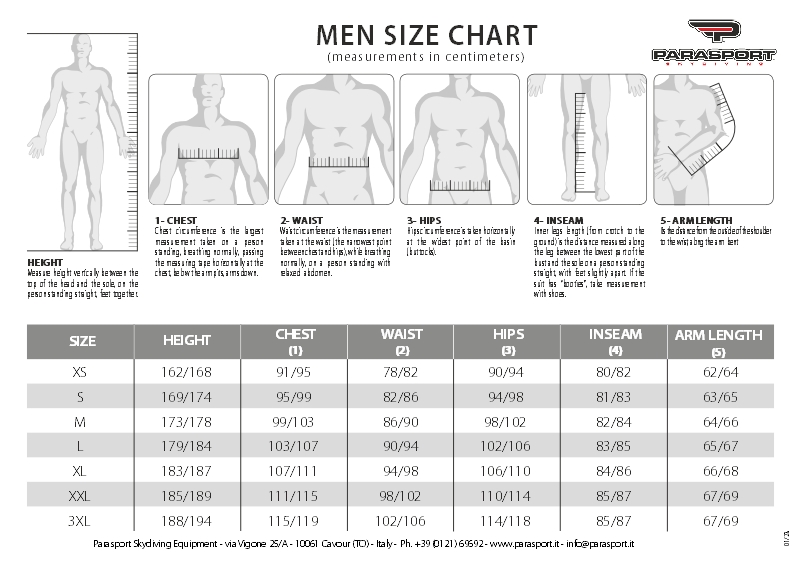 Jumpers can take advantage of a good quality product, at a reasonable price, with a short delivery time. And if lucky enough, a suit fitting may be at the DZ shop!
We have designed the new models with the standard sizes in mind, and we have set 7 sizes for men, and 7 for women (yes, we noticed that man and women are different). This will give great flexibility and more chances to find a standard size to fit a person.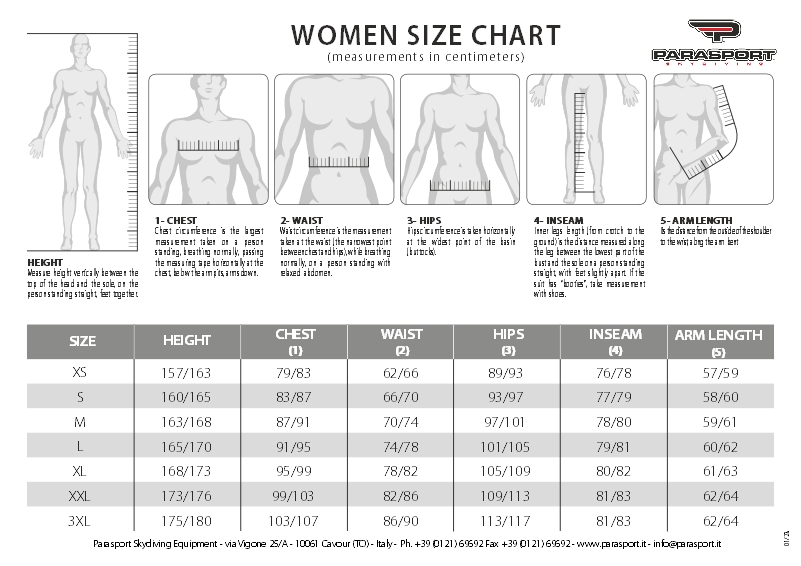 So, what should you do to choose the standard size that would fit? Well, first of all look at the measurements chart! This is important as you should pick the size by the measurements, not by its name… From the measurement chart you will easily find if a size fits you tight or loose, and decide which is best.
Another option is to try a suit in a standard size at a dealer's shop, and once found the best fitting one, place the order thru the dealer. Or just buy the one you tried!