To place your order for a custom Performance Designs Canopy, please follow the instructions below:
(Step 1) Choose canopy, add to cart and make a payment
(Step 2) You can configure your dream canopy at this Order Form: Comp_Velocity_Order
(Step 3) Please fill out the Order Form
(Step 4) After filling out the Order Form send it to us to info@wingstore.aero
(Step 5) We will contact you as soon as possible to finalize the order
You can also check available stock canopies here
"Better is best."-every PD engineer ever. Basically, our amazing engineers took all the best things about the original Velocity, and made it….wait for it…BETTER. Crazy, right?
This is a cross-braced canopy on steroids (the use of which we condone in our canopies, not their pilots).
The Comp Velocity is perfect for high performance canopy pilots ready to compete, or anyone dabbling in cross-braced flight for the first (beer) time.
Great openings, advanced aerodynamics, powerful rear risers, excellent slow flight characteristics on toggles (hellooooo canopy flocking & XRW!), and improved landing performance. Turns out you can have your beer line, and swoop it, too.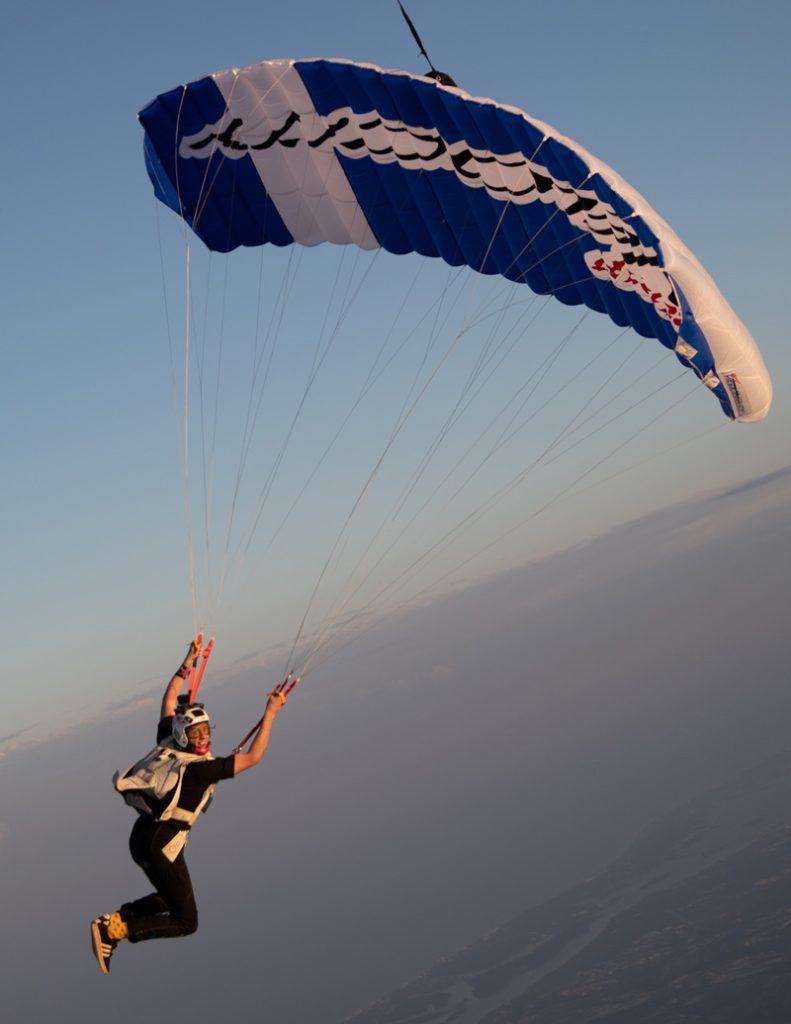 TECHNICAL INFORMATION
Sizes 71, 75, 79, 84, 90, 96, 103, 111
7-cell crossbraced canopy
All Zero Porosity (ZP) fabric
Orange Vectran, HMA, or Vectran lines
Collapsible Channel Slider, RDS slider or Collapsible RDS slider
CHARACTERISTICS
Great openings
Long recovery arc
Very steep glide
Great shut down power
Responsive and powerful canopy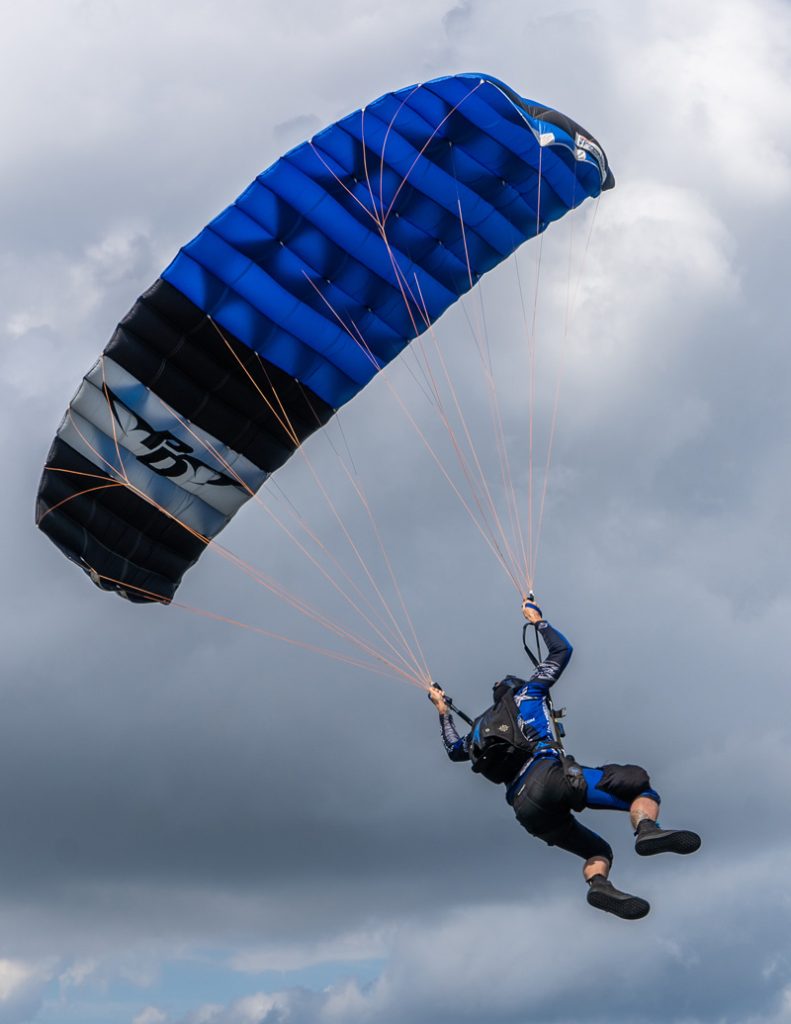 GREAT FOR
Highly experienced canopy pilots
First-time crossbraced canopy pilots
Getting back from long spots
Camera flyers
Individuals learning high performance canopy piloting under appropriate supervision
Individuals looking for a high performance canopy for competition
COMP VELOCITY WING LOAD CHART
| Canopy Model | Area (Sq.Ft.) | Min Exit Wt. | Student* | Novice* | Intermediate* | Advanced* | Expert* | Max* | Span (FT.) | Chord (FT.) | Aspect Ratio |
| --- | --- | --- | --- | --- | --- | --- | --- | --- | --- | --- | --- |
| Comp Velocity – 071 | 071 | 71 (32) | N/R | N/R | N/R | N/R | 149 (68) | 170 (77) | 13.78 | 5.48/4.25 | 2.68:1 |
| Comp Velocity – 075 | 075 | 75 (34 | N/R | N/R | N/R | N/R | 158 (72) | 180 (82) | 14.17 | 5.63/4.36 | 2.68:1 |
| Comp Velocity – 079 | 079 | 79 (36) | N/R | N/R | N/R | N/R | 166 (75) | 194 (88) | 14.54 | 5.78/4.48 | 2.68:1 |
| Comp Velocity – 084 | 084 | 84 (38) | N/R | N/R | N/R | 109 (50) | 176 (80) | 206 (94) | 14.99 | 5.98/4.62 | 2.68:1 |
| Comp Velocity – 090 | 090 | 90 (41) | N/R | N/R | N/R | 117 (53) | 193 (88) | 225 (102) | 15.56 | 6.20/4.75 | 2.68:1 |
| Comp Velocity – 096 | 096 | 96 (44) | N/R | N/R | N/R | 125 (57) | 206 (94) | 240 (109) | 16.07 | 6.20/4.75 | 2.68:1 |
| Comp Velocity – 103 | 103 | 103 (47) | N/R | N/R | N/R | 134 (61) | 221 (100) | 252 (115) | 16.65 | 6.63/5.08 | 2.68:1 |
| Comp Velocity – 111 | 111 | 111 (51) | N/R | N/R | N/S | 144 (65) | 238 (108) | 266 (121) | 17.33 | 6.91/5.23 | 2.68:1 |