The Optimum Reserve is now offered in sizes ranging from 99 to 253 square feet. It is made from a new low permeability, low bulk fabric available exclusively from Performance Designs.
Performance Designs combined this fabric with special aerodynamics and extensive reinforcing to create great strength, better performance, and a far smaller pack volume for a given size. The Optimums are rated for maximum exit weights ranging from 220 pound to as much as 300 pounds!
The Optimum has successfully been drop-tested at weights and speeds considerably higher than those required for FAA certification according to TSO C23d, the highest standard to date. The Optimum flies and lands far more like a main parachute too. All this and also provides a more powerful flare, by a wide margin, of any reserve we have ever tried.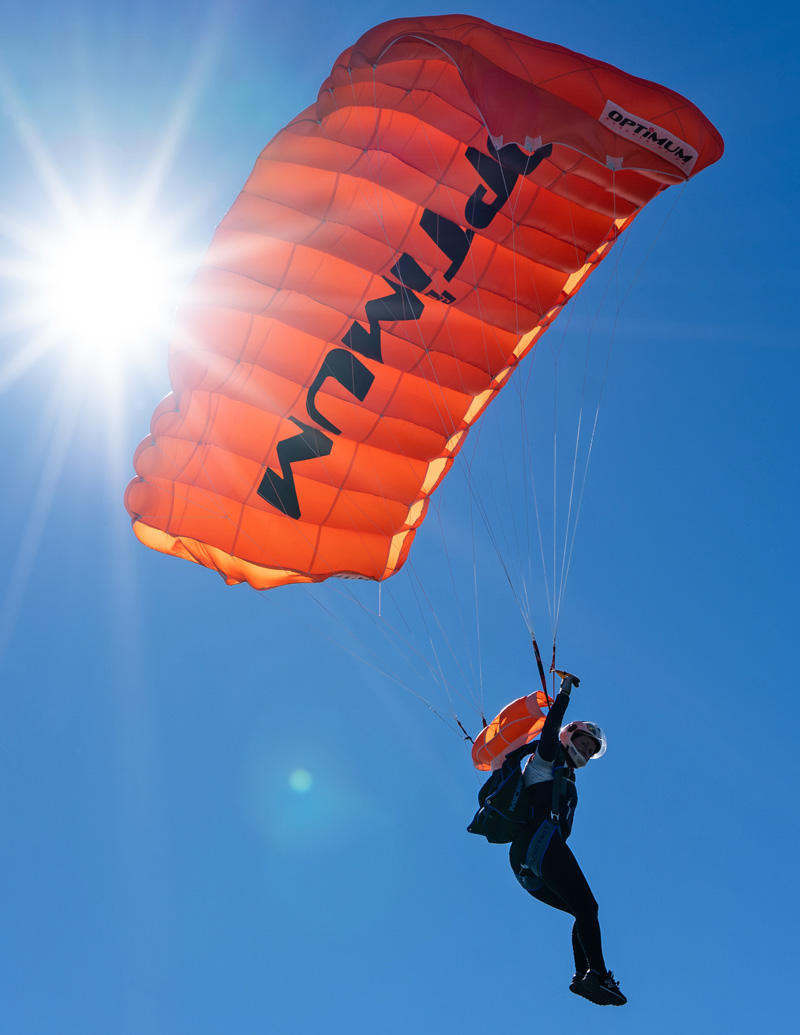 Technical Information:
Sizes 99, 106, 113, 126, 143, 160, 176, 193, 218, 235, 253
7-cell reserve canopy
PD's proprietary low bulk 30 denier fabric
Microline
Packs one size smaller than most traditional fabric reserves
Available only in Orange
Characteristics:
Incredible flare and stopping power
More forgiveness on landing
Prompt, yet smooth openings even at terminal deployment speeds
Enhanced aerodynamics for reduced opening forces
Great flight characteristics, flies more like a main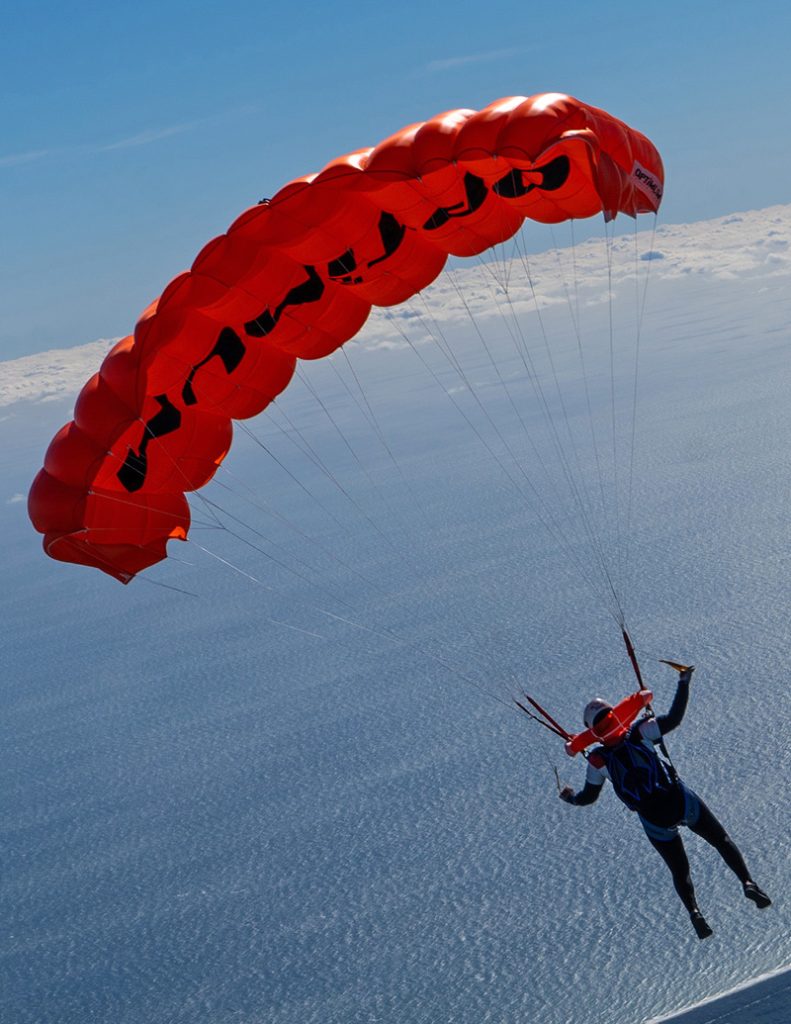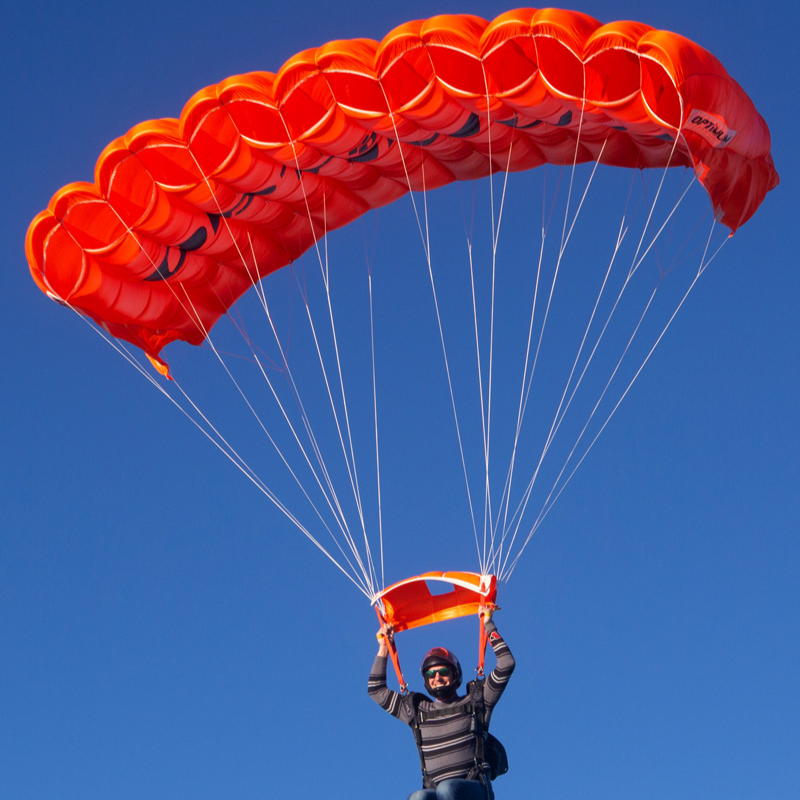 Great for:
Anyone!
Individuals seeking a low pack volume reserve
Individuals looking for a docile, predictable reserve with outstanding flight characters and a powerful, easy flare
OPTIMUM WING LOAD CHART
| Canopy Model | Area (Sq.Ft.) | Min Exit Wt. | Student* | Novice* | Intermediate* | Advanced* | Expert* | Max* | Span (FT.) | Chord (FT.) | Aspect Ratio |
| --- | --- | --- | --- | --- | --- | --- | --- | --- | --- | --- | --- |
| Optimum – 099 | 099 | VLC | N/R | N/R | N/S | 119 (54) | 149 (68) | 220 (100) | 14.42 | 6.87 | 2.1:1 |
| Optimum – 106 | 106 | VLC | N/R | N/R | N/S | 127 (58) | 159 (72) | 220 (100) | 14.92 | 7.10 | 2.1:1 |
| Optimum – 113 | 113 | VLC | N/R | N/R | 113 (51) | 130 (59) | 169 (77) | 254 (115) | 15.40 | 7.30 | 2.1:1 |
| Optimum – 126 | 126 | VLC | N/R | N/R | 126 (57) | 145 (66) | 176 (80) | 254 (115) | 16.27 | 7.75 | 2.1:1 |
| Optimum – 143 | 143 | VLC | N/R | 122 (55) | 143 (65) | 165 (75) | 200 (91) | 254 (115) | 17.33 | 8.25 | 2.1:1 |
| Optimum – 160 | 160 | VLC | N/R | 148 (67) | 170 (77) | 190 (86) | 225 (102) | 265 (120) | 18.33 | 8.73 | 2.1:1 |
| Optimum – 176 | 176 | VLC | 160 (73) | 180 (82) | 195 (89) | 220 (100) | 250 (113) | 270 (122) | 19.23 | 9.15 | 2.1:1 |
| Optimum – 193 | 193 | VLC | 187 (85) | 200 (91) | 215 (98) | 250 (113) | 275 (125) | 275 (125) | 20.13 | 9.59 | 2.1:1 |
| Optimum – 218 | 218 | VLC | 216 (98) | 225 (102) | 240 (109) | 260 (118) | 280 (127) | 280 (127) | 21.40 | 10.19 | 2.1:1 |
| Optimum – 235 | 235 | VLC | 235 (107) | 240 (109) | 255 (116) | 270 (122) | 285 (129) | 285 (129) | 22.21 | 10.58 | 2.1:1 |
| Optimum – 253 | 253 | VLC | 255 (116) | 265 (120) | 275 (125) | 280 (127) | 290 (132) | 290 (132) | 23.05 | 10.98 | 2.1:1 |
*Numbers are the Recommended Maximum Exit Weight in pounds / (KG) for that skillset