To place your order for a custom Performance Designs Canopy, please follow the instructions below:
(Step 1) Choose canopy, add to cart and make a payment
(Step 2) You can configure your dream canopy at this Order Form: Pulse_Order_Form.pdf
(Step 3) Please fill out the Order Form
(Step 4) After filling out the Order Form send it to us to info@wingstore.aero
(Step 5) We will contact you as soon as possible to finalize the order
You can also check available stock canopies here
Science has shown that exercise, proper sleep, and reduced caffeine intake can drastically lower stress.
Or, you could just fly a Pulse.
With soft, consistently on-heading openings, and a shorter snivel, it's stress-free fun from opening to landing–perfect for novice to experienced jumpers, and even wingsuiters.
It's very flat glide takes the stress out of long spots, and landings are easy-breezy thanks to its short recovery arc and easy flare-timing. The reduction in pack volume alone is enough to lower your cortisol levels. Thanks to the combo of our well-known ZP fabric and proprietary low-bulk fabric, it packs up to one whole size smaller than a similarly sized full-ZP canopy.
Sounds like you can keep your coffee after all.
TECHNICAL INFORMATION
Sizes 107, 120, 135, 150, 170, 190, 210, 230, 260
9-cell canopy
Zero Porosity (ZP) top skin with PD's proprietary low-bulk fabric bottom skin
Vectran lines
Packs up one size smaller than similar-sized Zero Porosity (ZP) canopy
Ribs and Bottom panels are only available in White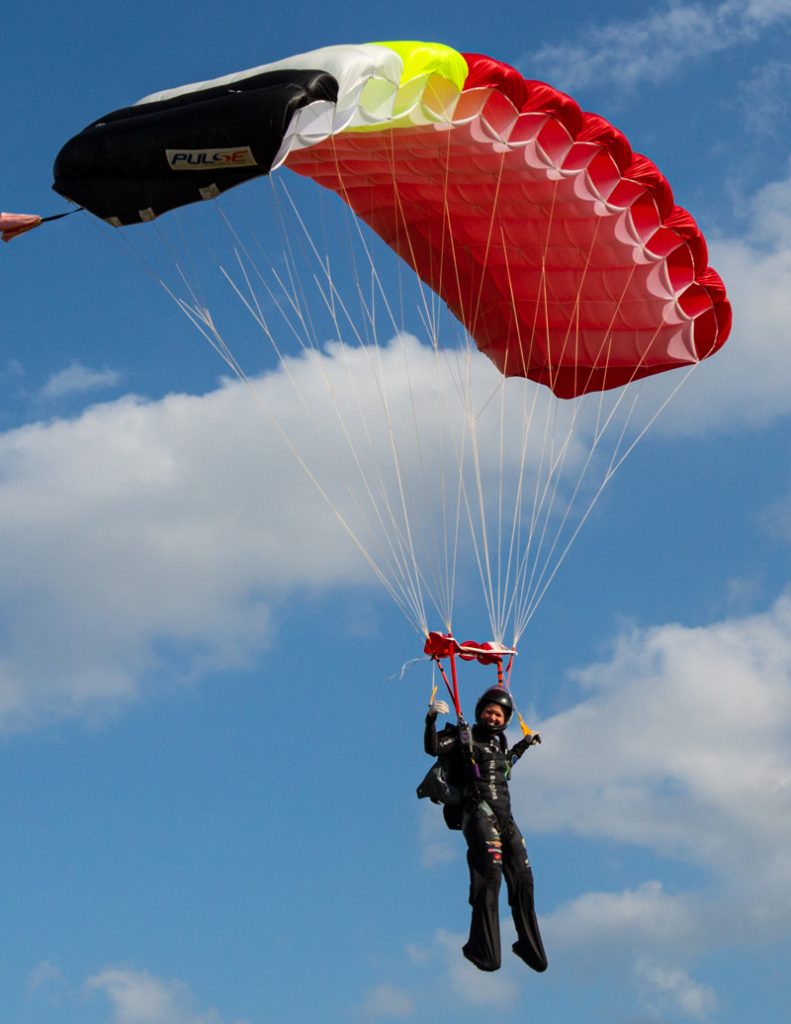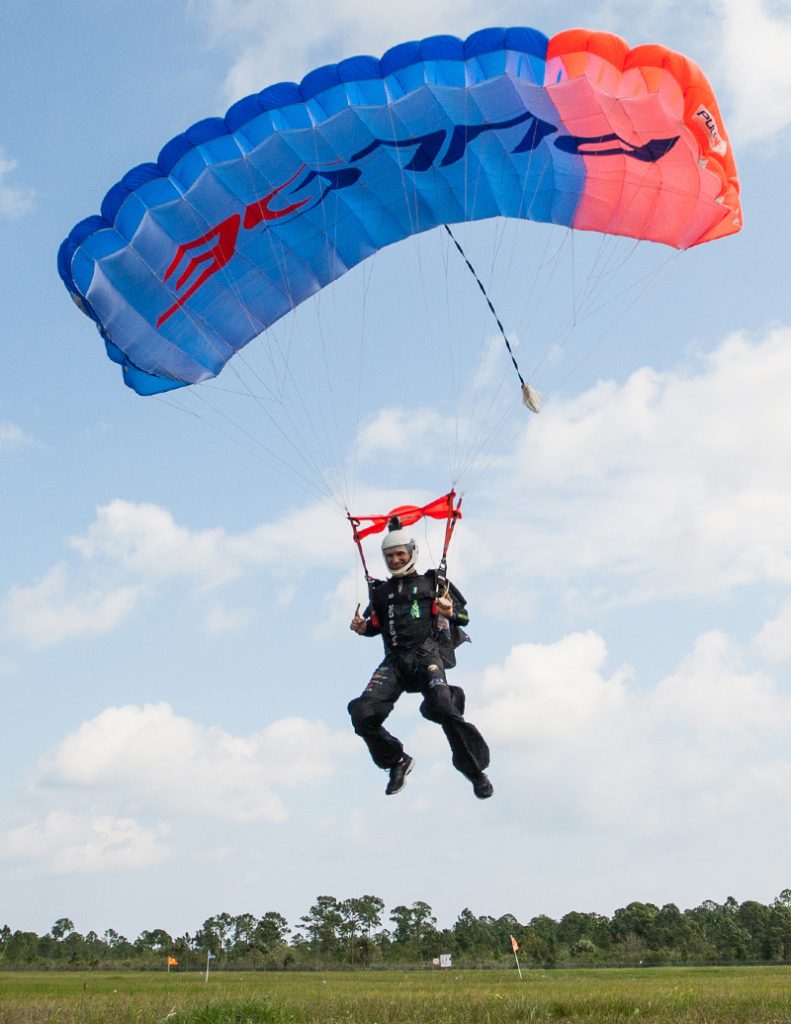 CHARACTERISTICS
Soft openings with short snivel
Forgiving openings
Very flat glide
Short recovery arc
Easy to pack
Easy to time flare
For Novice to Experienced jumpers
Ribs 2R-18R and Bottom panels 1B-9B are only available in White
GREAT FOR
Novice to Experienced skydivers
Wingsuiting
Getting back from long spots
Individuals who are learning or who have issues packing
Individuals looking for a canopy that has a low pack volume
Flat packing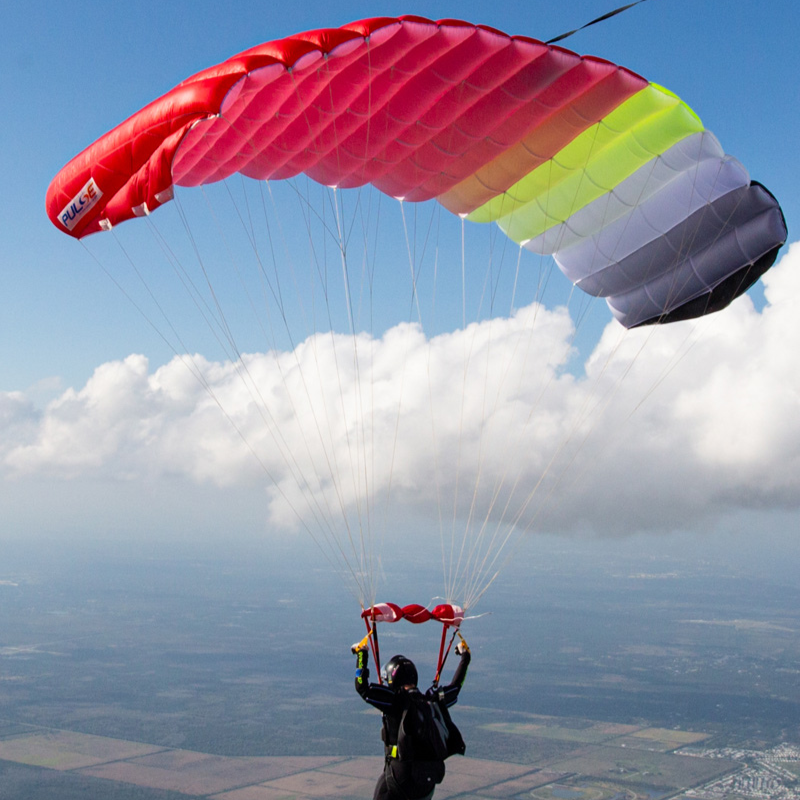 PULSE WING LOAD CHART
| Canopy Model | Area (Sq.Ft.) | Min Exit Wt. | Student* | Novice* | Intermediate* | Advanced* | Expert* | Max* | Span (FT.) | Chord (FT.) | Aspect Ratio |
| --- | --- | --- | --- | --- | --- | --- | --- | --- | --- | --- | --- |
| Pulse – 107 | 107 | VLC | N/S | N/S | N/S | 114 (52) | 138 (63) | 160 (73) | 16.67 | 6.43 | 2.59:1 |
| Pulse – 120 | 120 | VLC | N/S | N/S | 115 (52) | 129 (59) | 155 (70) | 180 (82) | 17.65 | 6.81 | 2.59:1 |
| Pulse – 135 | 135 | VLC | N/S | 110 (50) | 132 (60) | 146 (66) | 175 (80) | 202 (92) | 18.72 | 7.22 | 2.59:1 |
| Pulse – 150 | 150 | VLC | N/S | 123 (56) | 149 (68) | 169 (77) | 195 (89) | 225 (102) | 19.73 | 7.61 | 2.59:1 |
| Pulse – 170 | 170 | VLC | N/S | 143 (65) | 173 (79) | 193 (88) | 222 (101) | 250 (114) | 21.01 | 8.10 | 2.59:1 |
| Pulse – 190 | 190 | VLC | 140 (64) | 165 (75) | 194 (88) | 218 (99) | 247 (112) | 266 (121) | 22.21 | 8.57 | 2.59:1 |
| Pulse – 210 | 210 | VLC | 157 (71) | 190 (86) | 216 (98) | 230 (105) | 259 (118) | 275 (125) | 23.45 | 9.01 | 2.59:1 |
| Pulse – 230 | 230 | VLC | 172 (78) | 210 (95) | 228 (104) | 245 (111) | 268 (122) | 280 (127) | 24.44 | 9.43 | 2.59:1 |
| Pulse – 260 | 260 | VLC | 195 (89) | 230 (105) | 242 (110) | 262 (119) | 282 (128) | 302 (137) | 25.98 | 10.02 | 2.59:1 |