To place your order for a custom UPT Container, please follow the instructions below:
(Step 1) Configure your dream container at this UPT Configurator
(Step 2) Click "Save as PDF" at the top of the page
(Step 3) Send it to our email: info@wingstore.aero
(Step 4) We will contact you as soon as possible to finalize the order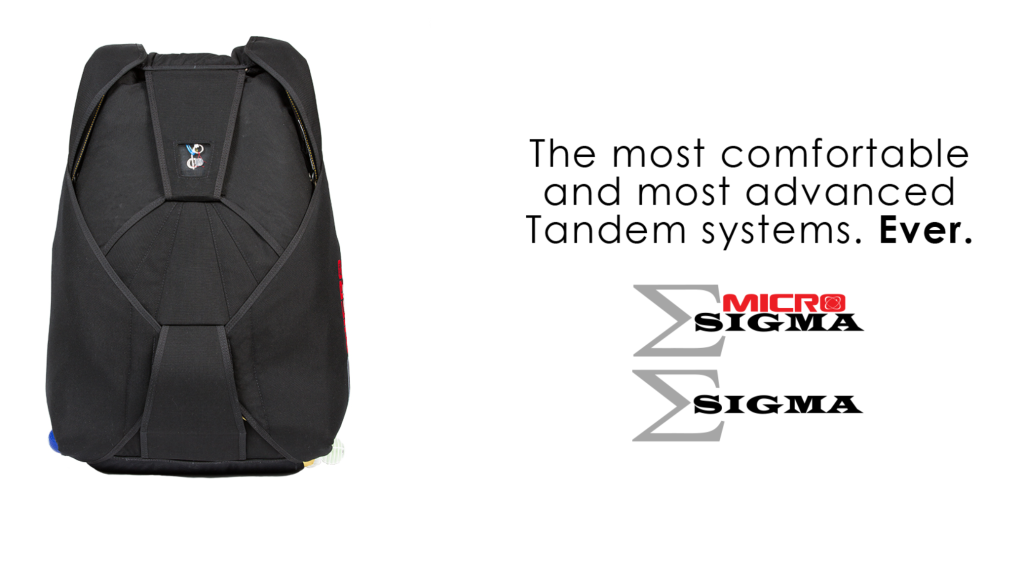 The best system for Instructor and Student
Through years of development and testing, the Sigma series of Tandem equipment is now the best and safest Tandem system we've ever produced.
The comfortable harness and head-high free-fall position are great for the Instructor, and our Student harness is the most sophisticated and comfortable money can buy.
Superior pin protection, retractable release handles, user-friendly component replacement and our Patented Disc Release system are just more ways that put us ahead of the competition.
Standard Features
Your brand new Sigma, or Micro Sigma, Tandem system comes loaded features, including: adjustable student harness, Magnetic Riser Covers, adjustable container harness, Double Wide Legpads, Retractable Release Handles, Spectra Reserve Ripcord, Reserve Pin Window, and our Skyhook RSL.
THE ADVANTAGES OF THE SIGMA TANDEM
It takes fewer steps, with fewer potential errors to close the main container.
Accidentally snagging the drogue bridle will not open the container.
Out-of-sequence deployments are virtually eliminated.
Its center-of-main-container drogue connection gives a more "natural" and comfortable droguefall position.
The drogue release ripcords are automatically retracted after use, or accidental snagging, so
that they are always where they should be, cannot be lost, and don't have to be stowed after
pulling.
It has two redundant drogue release ripcords, one on the right and one on the left.
The drogue release/container opening pin is "locked" until you throw the drogue, minimizing
the possibility of accidental high openings.
No more time-consuming untwisting of drogue kill line during packing. Kill lines can be easily
replaced in the field. You still get a more or less normal deployment if the kill line breaks, and
you don't lose your drogue.
Main deployment bag design reduces canopy damage.
Student harness that is safer and more comfortable for students.
The Skyhook RSL system.
The "Collin's Lanyard," and all of it's advantages.
Tuck tab style reserve pin cover.
Magnetic riser covers.
Clear plastic windows make reserve pin checks and AAD operation easier
Available colors
Disclaimer:
Due to color variances among monitors the colors that appear on your screen may not be exact. Please see your Dealer for color swatches.
*Kryptek Corduras (Mandrake, Highlander, Typhon and Raid) all have KRYPTEK logos "ghosted" in fabric that cannot be removed or replaced and are completely random within the pattern.