The robust and proven 7 cell reserve is made by Performance Design, the leading manufacturer of sports parachutes. PD reserves have their own design with specifications which are specially tuned to reserve canopies.
The L-beam construction makes the canopy in regard to maximum suspended weight and speed limit more endurable as it actually would have to be.
PD reserves open fast and safely and have outstanding flight and landing characteristics.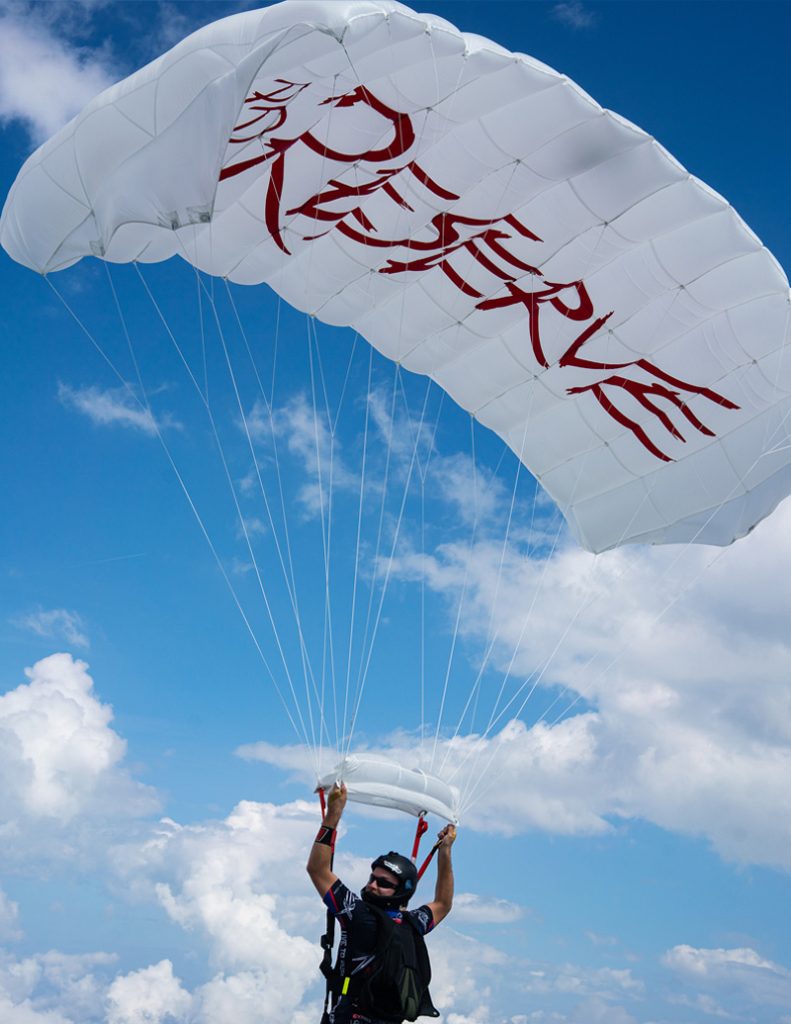 Technical Information:
Sizes 99, 106, 113, 126, 143, 160, 176, 193, 218, 235, 253, 281
7-cell reserve canopy
F111 type fabric
Microline or Dacron
Available in Yellow, White, or Light Blue
Characteristics:
Highly capable reserve
Responsive, predictable handling
Excellent glide in brakes and outstanding landing
Better flare power and openings than previous canopies
Subtle aerodynamic aspects of the design make it more powerful and more forgiving than anything built before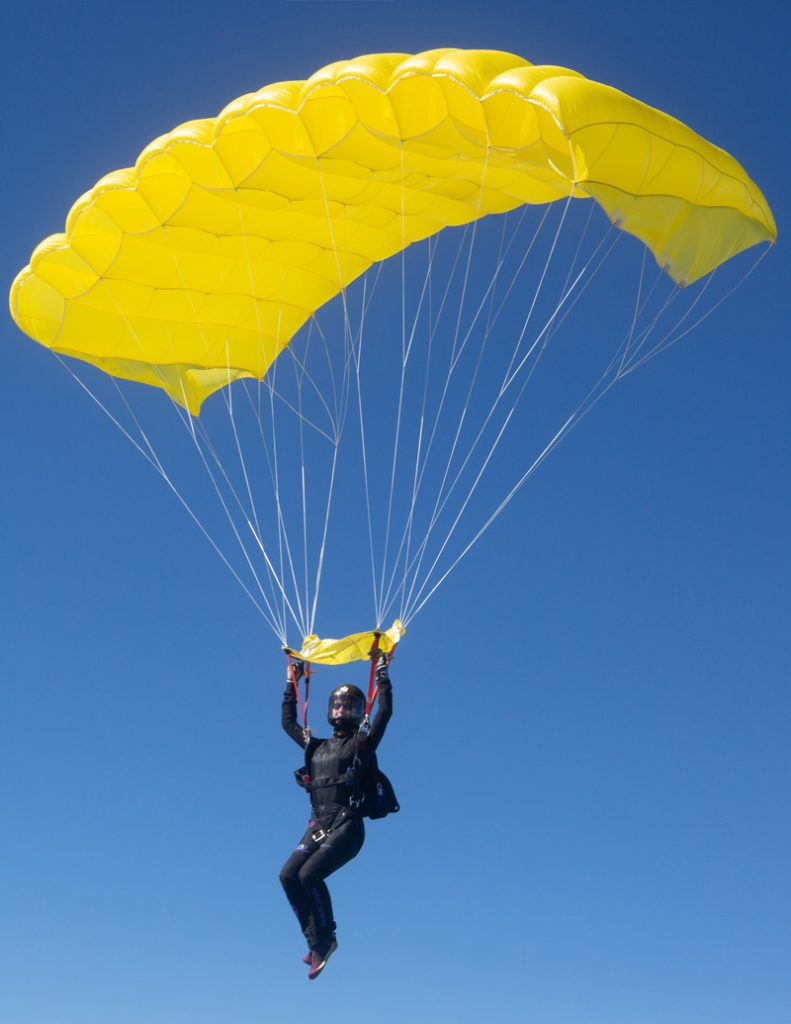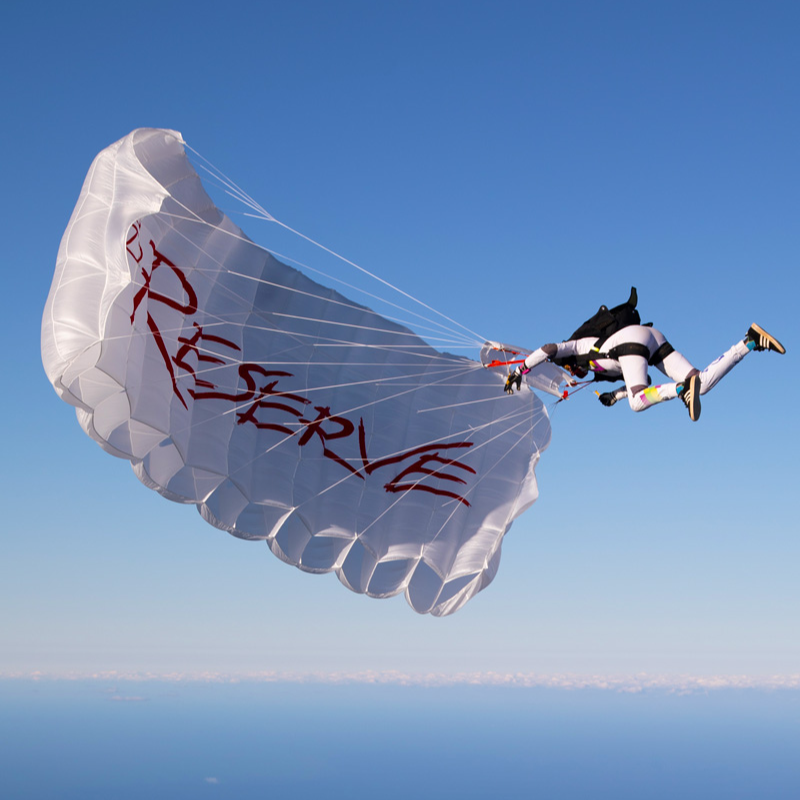 Great for:
Anyone!
Individuals looking for a reserve with a strong reputation and a 25+ year track record
PD RESERVE WING LOAD CHART
| Canopy Model | Area (Sq.Ft.) | Min Exit Wt. | Student* | Novice* | Intermediate* | Advanced* | Expert* | Max* | Span (FT.) | Chord (FT.) | Aspect Ratio |
| --- | --- | --- | --- | --- | --- | --- | --- | --- | --- | --- | --- |
| PD Reserve – 099 | 099 | VLC | N/R | N/R | 99 (45) | 119 (54) | 149 (68) | 220 (100) | 14.42 | 6.87 | 2.1:1 |
| PD Reserve – 106 | 106 | VLC | N/R | N/R | 106 (48) | 127 (58) | 149 (67) | 220 (100) | 14.92 | 7.10 | 2.1:1 |
| PD Reserve – 113 | 113 | VLC | N/R | N/R | 113 (51) | 130 (59) | 159 (72) | 220 (100) | 14.92 | 7.30 | 2.1:1 |
| PD Reserve – 126 | 126 | VLC | N/R | N/R | 126 (57) | 145 (66) | 176 (80) | 254 (115) | 15.40 | 7.75 | 2.1:1 |
| PD Reserve – 143 | 143 | VLC | N/R | 122 (55) | 143 (65) | 165 (75) | 200 (91) | 254 (115) | 16.27 | 8.25 | 2.1:1 |
| PD Reserve – 160 | 160 | VLC | N/R | 136 (62) | 160 (73) | 184 (84) | 224 (102) | 254 (115) | 17.33 | 8.73 | 2.1:1 |
| PD Reserve – 176 | 176 | VLC | 160 (73) | 160 (73) | 176 (80) | 202 (92) | 246 (112) | 254 (115) | 18.33 | 9.15 | 2.1:1 |
| PD Reserve – 193 | 193 | VLC | 187 (85) | 187 (85) | 193 (88) | 222 (101) | 254 (115) | 254 (115) | 19.22 | 9.59 | 2.1:1 |
| PD Reserve – 218 | 218 | VLC | 216 (98) | 216 (98) | 218 (99) | 235 (107) | 254 (115) | 254 (115) | 21.40 | 10.19 | 2.1:1 |
| PD Reserve – 235 | 235 | VLC | 235 (107) | 235 (107) | 235 (107) | 254 (115) | 254 (115) | 254 (115) | 22.22 | 10.58 | 2.1:1 |
| PD Reserve – 253 | 253 | VLC | 254 (115) | 254 (115) | 254 (115) | 254 (115) | 254 (115) | 254 (115) | 23.05 | 10.98 | 2.1:1 |
| PD Reserve – 281 | 281 | VLC | 281 (128) | 281 (128) | 281 (128) | 300 (136) | 300 (136) | 300 (136) | 24.29 | 10.98 | 2.1:1 |
*Numbers are the Recommended Maximum Exit Weight in pounds / (KG) for that skillset