To place your order for a custom Performance Designs Canopy, please follow the instructions below:
(Step 1) Choose canopy, add to cart and make a payment
(Step 2) You can configure your dream canopy at this Order Form: Storm_Order_Form.pdf
(Step 3) Please fill out the Order Form
(Step 4) After filling out the Order Form send it to us to info@wingstore.aero
(Step 5) We will contact you as soon as possible to finalize the order
You can also check available stock canopies here
Whoever said "you can't have your cake and eat it, too" never flew a Storm.
Torn between flying a 7-cell vs a 9-cell? Looking for the perfect wingsuit canopy? Flying occasional CF, but not ready for a second canopy? Our mad scientist engineers endeavored to solve your problems–condensing all your favorite 9-cell characteristics (steep glide, long recovery arc, and a powerful bottom-end flare) into 7 cells while retaining the the long snivels and soft openings you've grown to love.
The Storm checks all the boxes. So have your cake. Eat it, too. Just don't get it on your lines.
TECHNICAL INFORMATION
Sizes 97, 107, 120, 135, 150, 170, 190, 210, 230
7-cell canopy
All Zero Porosity (ZP) fabric
Microline or Dacron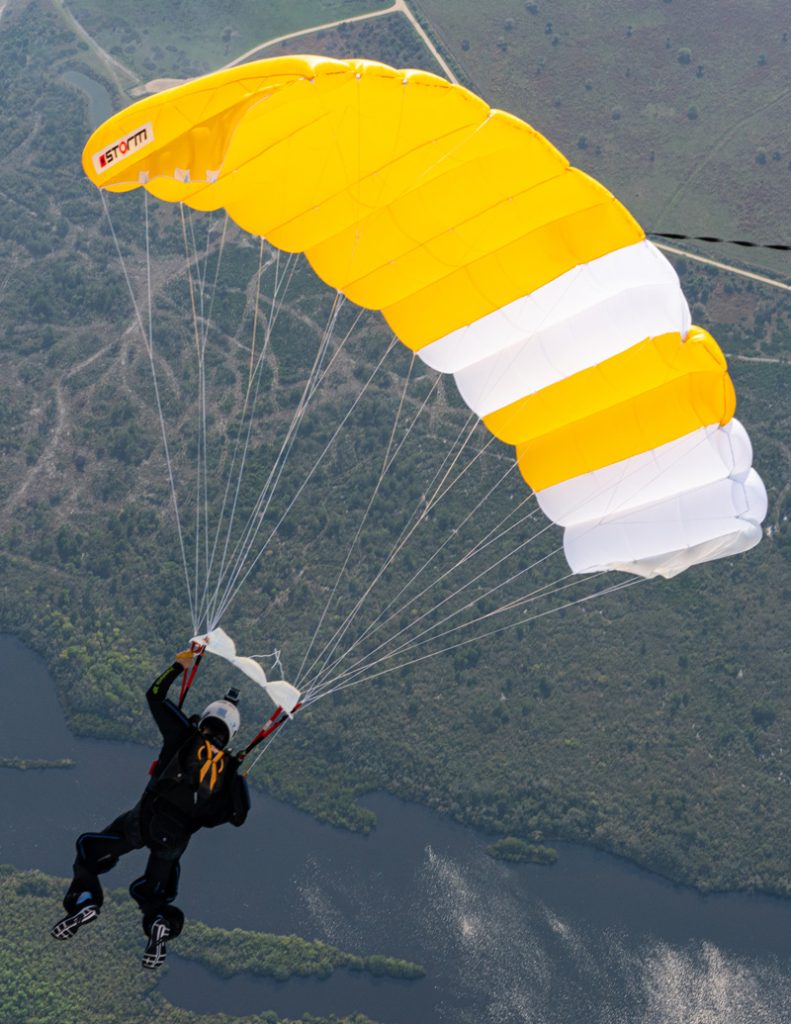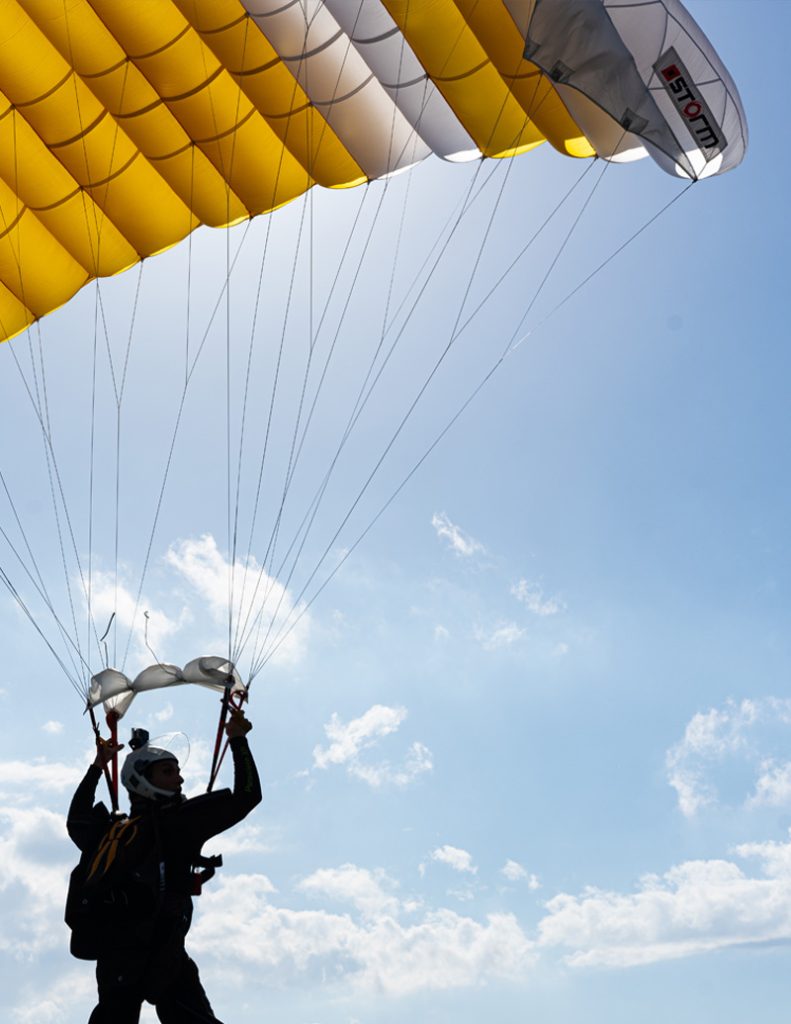 CHARACTERISTICS
Soft openings with long snivel
Steep glide
Long recovery arc
Long control range
Powerful bottom-end flare
GREAT FOR
Novice to Intermediate skydivers at lighter wing loads
Advanced to Expert skydivers at heavier wing loads
Wingsuiting
Individuals looking for a casual CReW canopy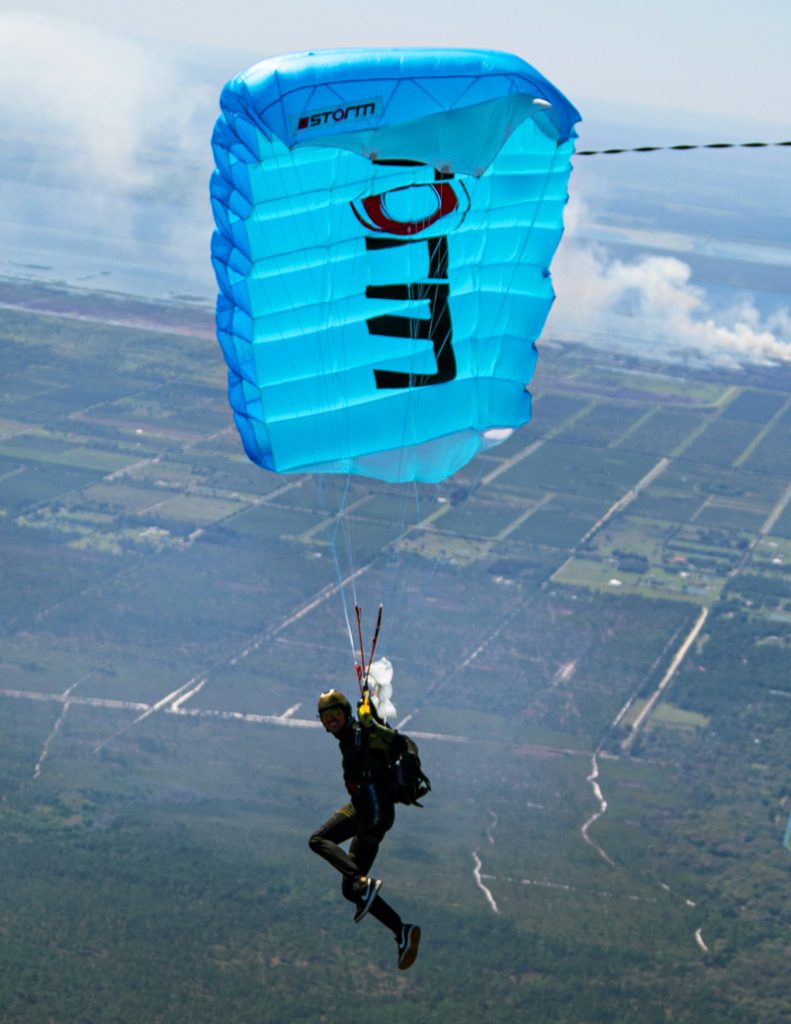 STORM WING LOAD CHART
| Canopy Model | Area (Sq.Ft.) | Min Exit Wt. | Student* | Novice* | Intermediate* | Advanced* | Expert* | Max* | Span (FT.) | Chord (FT.) | Aspect Ratio |
| --- | --- | --- | --- | --- | --- | --- | --- | --- | --- | --- | --- |
| Storm – 097 | 97 | VLC | N/S | N/S | N/S | 116 (53) | 150 (68) | 175 (79) | 14.42 | 6.87/6.25 | 2.14:1 |
| Storm – 107 | 107 | VLC | N/S | N/S | N/S | 128 (58 | 166 (75) | 193 (88) | 15.15 | 7.21/6.98 | 2.14:1 |
| Storm – 120 | 120 | VLC | N/S | N/S | 120 (55) | 144 (65) | 192 (87) | 216 (98) | 16.04 | 7.64/6.98 | 2.14:1 |
| Storm – 135 | 135 | VLC | N/S | 122 (55) | 149 (68) | 169 (77) | 216 (98) | 230 (104) | 17.01 | 8.10/7.39 | 2.14:1 |
| Storm – 150 | 150 | VLC | N/S | 143 (65) | 173 (78) | 188 (85) | 225 (102) | 240 (109) | 17.93 | 8.54/7.72 | 2.14:1 |
| Storm – 170 | 170 | VLC | N/S | 170 (77) | 196 (89) | 213 (97) | 238 (108) | 255 (116) | 19.09 | 9.09/8.29 | 2.14:1 |
| Storm – 190 | 190 | VLC | 133 (60) | 190 (86) | 209 (95) | 228 (104) | 247 (112) | 266 (121) | 20.18 | 9.61/8.76 | 2.14:1 |
| Storm – 210 | 210 | VLC | 158 (72) | 210 (95) | 221 (100) | 242 (110) | 263 (119) | 273 (124) | 21.22 | 10.10/9.21 | 2.14:1 |
| Storm – 230 | 230 | VLC | 173 (78) | 230 (105) | 242 (110) | 253 (115) | 263 (119) | 299 (136) | 22.20 | 10.57/9.64 | 2.14:1 |