To place your order for a custom Performance Designs Canopy, please follow the instructions below:
(Step 1) Choose canopy, add to cart and make a payment
(Step 2) You can configure your dream canopy at this Order Form: CF_Storm_Order_Form.pdf
(Step 3) Please fill out the Order Form
(Step 4) After filling out the Order Form send it to us to info@wingstore.aero
(Step 5) We will contact you as soon as possible to finalize the order
You can also check available stock canopies here
So you're an overachiever. It's not enough to take docks in freefall, you want to take them under canopy as well? Not just happy to land accurately, you want to do it into a stadium with a 50-foot flag?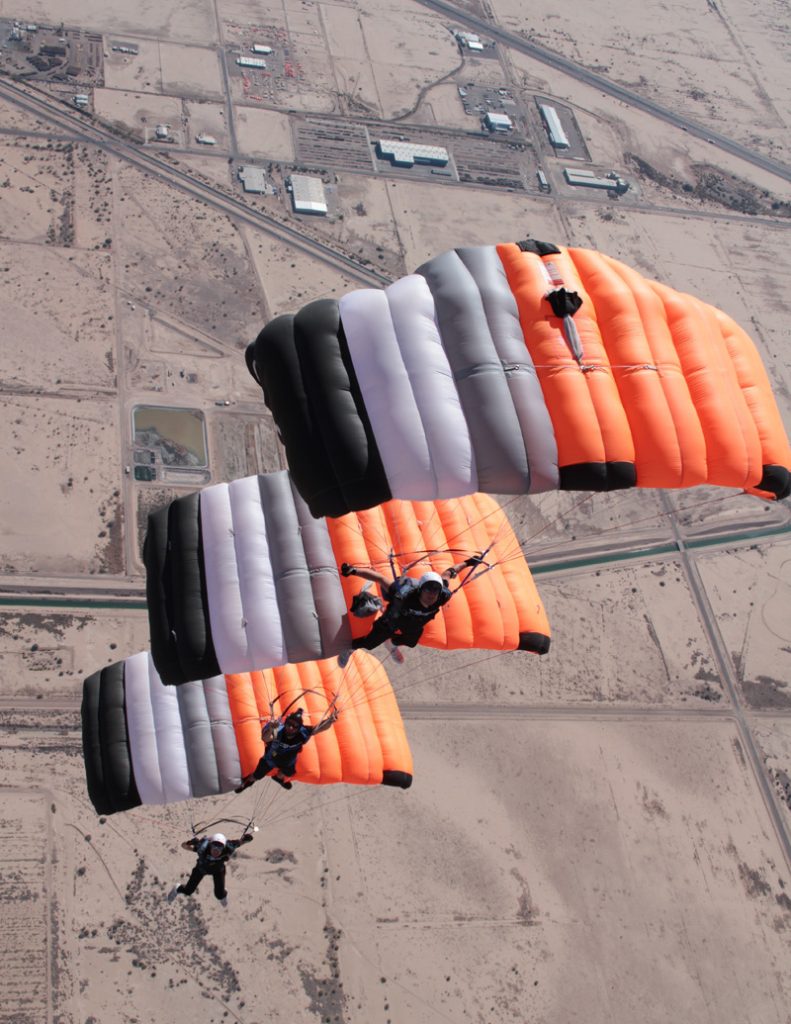 Yeah, we get it.
We've been called overachievers, ourselves, which is why we didn't just stop at making the Storm.
We took it a step further, developing the Storm CF–a canopy that combines all the things you loved about the Storm (which was already a combination of all the flight characteristics you love about a 9-cell infused in a 7-cell), revised to meet the needs of a serious CF competitor or CF demo jumper.
You like the sound of great speed range, solid handling, and a powerful flare?
How about a mesh slider for quick sub-terminal openings? We thought so.
TECHNICAL INFORMATION
Sizes 97, 107, 120, 135, 150, 170, 190, 210, 230
7-cell CReW canopy
Dacron lines
Mesh slider
Tail pocket
Continuous A1 & A4 Red
Reinforced stabilizers
Target panels on cells 1, 6, 7 top surface
#5 links
3 pilot chute attachments
Retractable bridle system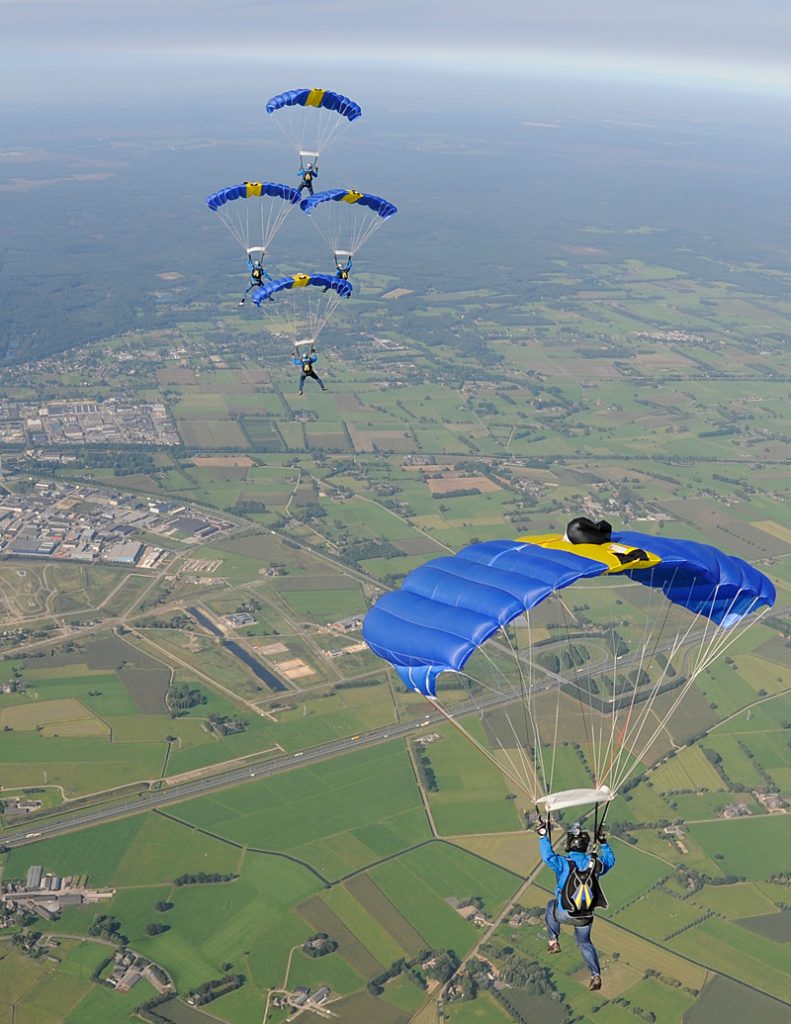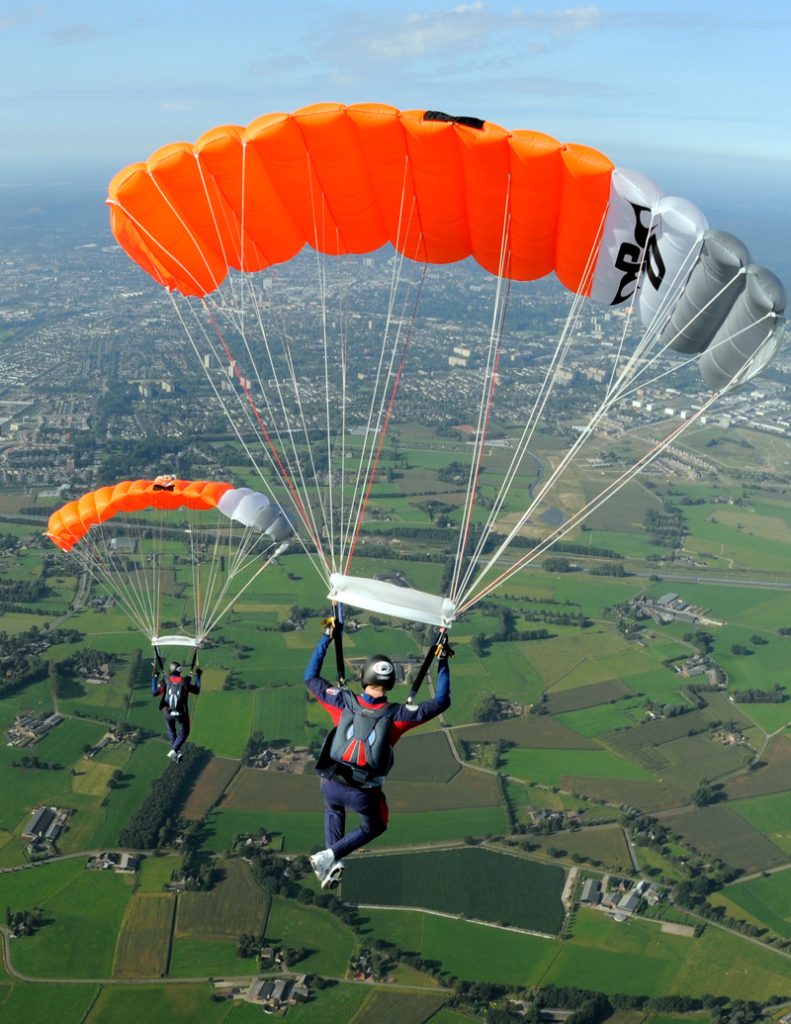 GREAT FOR
Competitive CReW
Demonstration CReW jumps
Highly experienced Storm pilots
Why are we still talking? Get out there and break some new records, already!
CF STORM WING LOAD CHART
| Canopy Model | Area (Sq.Ft.) | Min Exit Wt. | Student* | Novice* | Intermediate* | Advanced* | Expert* | Max* | Span (FT.) | Chord (FT.) | Aspect Ratio |
| --- | --- | --- | --- | --- | --- | --- | --- | --- | --- | --- | --- |
| CF Storm – 097 | 97 | VLC | N/S | N/S | N/S | 116 (53) | 150 (68) | 175 (79) | 14.42 | 6.87/6.25 | 2.14:1 |
| CF Storm – 107 | 107 | VLC | N/S | N/S | N/S | 128 (58 | 166 (75) | 193 (88) | 15.15 | 7.21/6.98 | 2.14:1 |
| CF Storm – 120 | 120 | VLC | N/S | N/S | 120 (55) | 144 (65) | 192 (87) | 216 (98) | 16.04 | 7.64/6.98 | 2.14:1 |
| CF Storm – 135 | 135 | VLC | N/S | 122 (55) | 149 (68) | 169 (77) | 216 (98) | 230 (104) | 17.01 | 8.10/7.39 | 2.14:1 |
| CF Storm – 150 | 150 | VLC | N/S | 143 (65) | 173 (78) | 188 (85) | 225 (102) | 240 (109) | 17.93 | 8.54/7.72 | 2.14:1 |
| CF Storm – 170 | 170 | VLC | N/S | 170 (77) | 196 (89) | 213 (97) | 238 (108) | 255 (116) | 19.09 | 9.09/8.29 | 2.14:1 |
| CF Storm – 190 | 190 | VLC | 133 (60) | 190 (86) | 209 (95) | 228 (104) | 247 (112) | 266 (121) | 20.18 | 9.61/8.76 | 2.14:1 |
| CF Storm – 210 | 210 | VLC | 158 (72) | 210 (95) | 221 (100) | 242 (110) | 263 (119) | 273 (124) | 21.22 | 10.10/9.21 | 2.14:1 |
| CF Storm – 230 | 230 | VLC | 173 (78) | 230 (105) | 242 (110) | 253 (115) | 263 (119) | 299 (136) | 22.20 | 10.57/9.64 | 2.14:1 |
*Description provided by the manufacturer